PIN: 2283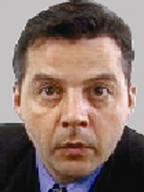 I come from a big family; I think I felt like the odd one out, I felt a bit different from my brothers and sisters.
I never felt I had a gift until later in life, although I had one or two mind blowing experiences. I was a young man in the Royal Navy; I was on Fire Watch one evening in a naval hospital, as part of my duty I had to check all attics. As I opened one of the doors I could see a figure in naval uniform, he was a Petty Officer, he looked normal, I challenged him and asked what are you doing here, he came towards me, but he did not stop when he reached me, he went right through me towards the light and simply disappeared in to thin air. I was shocked, and severely shaken. Afterwards I found out he was a Petty Officer who had committed suicide because of personal problems.
Many years later my Wife was asked to join a Development Circle, the medium said whilst we are about it you should join too. I was gobsmacked; as far as I was concerned my wife had this gift not me.
Well the rest is history, many years later, here I am still doing my thing, and it is still mind blowing to work with my inspirers.
Mick's feedback
Mick is an amazing reader; he gives sepcific details of what could happen. He is so positive that he always lifts my spirit when I'm feeling down...God bless him.quot;
Sue