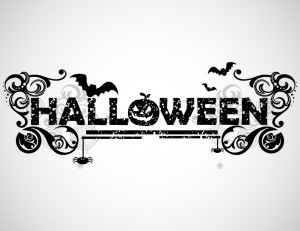 Halloween is an unusual celebration; it is neither patriotic nor historical, yet it is celebrated internationally. It weaves spirituality, death and religious beliefs into our present and historical imaginations.
Many believe that Halloween is a "pagan" or pre-European-Christian holiday with roots in Celtic traditions. Perhaps Halloween is a descendent of the Celtic Samhain festival, which, on November 1st, marked both the Celtic New Year and the day during which dead souls were believed to revisit Earth. In 731 A.D., November 1st was declared All Saints' Day (All Hallows Day). October 31st therefore became All Hallows Eve, in time shortened to "Halloween."
Some elements seem distinctively Native American in heritage – the pumpkin and maize – appearing in the form of candy corn and the corn shocks that decorate front porches even today.
People maintain that trick-or-treating is linked to Irish Samhain traditions and that it became popular about the time that the Irish began immigrating to the United States in large numbers. It's thought during Samhain; people opened the (more…)