Traditionally the New Year is a time to cleanse and renew; put our mistakes behind us and make a fresh start. Many cement this with making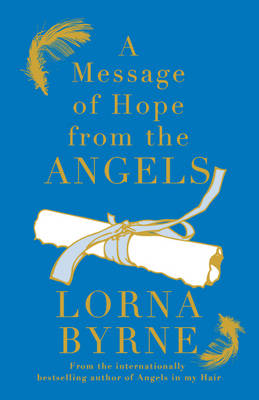 resolutions; promising ourselves that we will banish bad behaviours like smoking, unhealthy eating, lack of commitment to exercise and so on. The problem with these rituals is that often we break them soon after making them leaving us in a cycle of feeling weak willed and depressed that we could not make the changes we wanted.
So this year instead of making lots of promises of changes; why not do something different? For instance you could read the new book by Lorna Byrne – A Message of Hope from the Angels. In the book Lorna tells in a simple and direct way how you can call on this help to make your life better and happier. 
In A Message of Hope from the Angels Irish mystic Lorna Byrne brings a vital, urgent communication from above for these challenging times. 'The Angel told me, "Hope makes the impossible possible Lorna sees angels with as much clarity as the rest of us see people and she speaks to them every day. In the past Lorna has talked about her life, and how the angels prepared her to deliver a message to the world. This book contains her message of hope, and this message is for you. She writes about how she sees angels helping people when they are feeling tired, helpless, depressed, unloved, inadequate as a parent, struggling financially or simply too busy.
Lorna lives in ruralIreland, where she is a mother to four children. She was widowed some years ago and she feels she is now finally doing what the Angels have been asking her to do for several years and talking openly for the first time about what she has seen and learned from them. Lorna has been seeing and talking with Angels since she was a baby; "I'm also just an ordinary person dealing with the challenges and joys of everyday life, just like you."
"If you met a woman who said that she talked to angels every day, you might be forgiven for raising a discreetly cynical eyebrow. But somehow Lorna Byrne is different. Thousands of people say that she has changed their lives for the better."
Belfast Telegraph
Nobody is going to argue with her underlying message of love and compassion and forgiveness and her hopes for 'peace among nations and peace in families'. Spending time with her is both challenging and inspirational.  
Roisin Ingle – The Irish Times
"What Lorna has to say is of universal significance to all of humankind. I have made study of many mystics and spiritual schools of thought over the past forty years, and can say without hesitation that Lorna is a genuine visionary. The message she brings to suffering humanity offers a rare degree of hope and light in a world that often seems very dark. We are a race with amnesia, and she is helping to restore to us our memory of who we are and why we are here."
Ronald M.Mazur – Winnona State University, USA